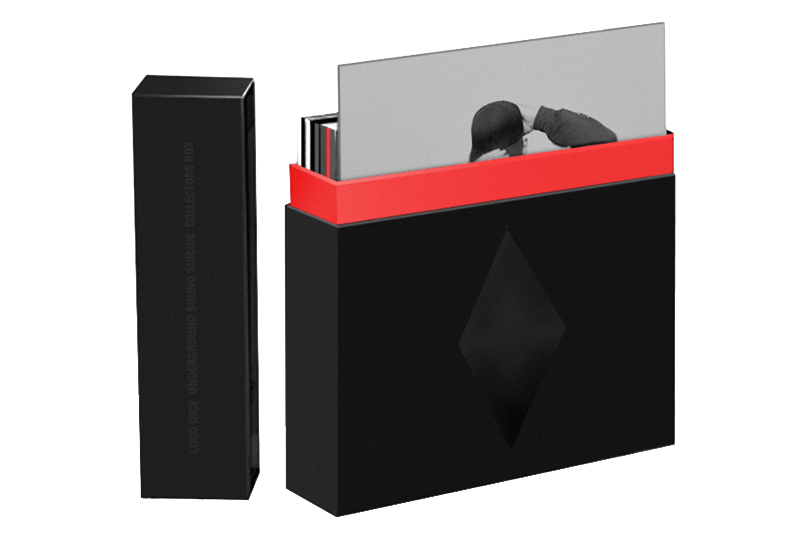 Im Oktober letzten Jahres veröffentlichte Loco Dice sein zweites Album "Underground Sound Suicide" auf Ultra Music, sieben Jahre nach seinem Debüt "7 Dunham Place". Im Mai erscheint nun eine limitierte Vinylbox des Albums, die Dice auf seinem Label Desolat veröffentlicht, inklusive einer Reihe neuer Remixe. Diese "Desolat USS Box" beinhaltet insgesamt acht Schalplatten (jeweils vier mit dem Album und den Remixen), einen USB-Stick mit Bonustracks und den Musikvideo von "Get Comfy" sowie eine Slipmat.
Tracklist Desolat USS Album:
A1 Leavin` Brooklyn
A2 You Shine feat. Pulshar
A3 You Shine (Original)
B1 Metaphors feat. Neneh Cherry
B2 Burn Ca$h Ash feat. Miss Kittin
C1 Get Comfy (Underground Sound Suicide) feat. Giggs
C2 Party Angels feat. JAW
D1 Negative II Positive
D2 The Ninja (Showtime)
D3 Badazz Dream (Outro)
E1 Get Comfy (Underground Sound Suicide)
E2 Party Angels
F1 Back To Flingern
F2 Burn Ca$h Ash
F3 Do U Really Wanna Ride!?
G1 Sending This One Out feat. Just Blaze
G2 Backstage Monsters
H1 Keep It Low feat. Chris Liebing
H2 Like In The Movies… Yeah I Want Sum!
Desolat USS RMX 01:
A1 Get Comfy feat. Giggs (Nightmares On Wax Vox Remix)
A2 You Shine feat. Pulshar (Just Be's On The Keys Remix)
B1 Party Angels feat. JAW (Henrik Schwarz Remix)
B2 Sending This One Out feat. Just Blaze (Kenny Dope O'Gutta Remix)
Desolat USS RMX 02
C1 You Shine feat. Pulshar (Kerri Kaoz Chandler Vocal Mix)
C2 Get Comfy feat. Giggs (Martin Buttrich Thing)
D1 Keep It Low feat. Chris Liebing (Bambounou Remix)
D2. You Shine feat. Pulshar (Pulshar Remake)
Desolat USS RMX 03
E1 Get Comfy feat. Giggs (Robert Hood Remix)
E2 Keep It Low feat. Chris Liebing (Chris Liebing Mix)
F1 Get Comfy feat. Giggs (ROD Remix One)
F2 Get Comfy feat. Giggs (Timo Maas Dirty Dub Mix)
Desolat USS RMX04
G1 Keep It Low feat. Chris Liebing (Jimmy Edgar Remix)
G2 Sending This One Out feat. Just Blaze (Frizzo Remix)
H1 Get Comfy feat. Giggs (ROD Remix Two)
H2 Get Comfy feat. Giggs (ROD Remix Three)
Bonusremixe:
Loco Dice – Get Comfy feat. Giggs (Martin Buttrich Dub Thing)
Loco Dice – Get Comfy feat. Giggs (Nightmares On Wax Dub)
Loco Dice – Sending This One Out feat. Just Blaze ( Kenny Dope O'Gutta Beats)
Loco Dice – You Shine feat. Pulshar (Kerri Kaoz Chandler Dub Mix)
Das könnte dich auch interessieren: 
Loco Dice kehrt zurück mit "Underground Sound Suicide"
Defected präsentiert "Loco Dice In The House" 
Jean-Michel Jarre kollaboriert mit Edward Snowden